Jul 26, 2010
Date Night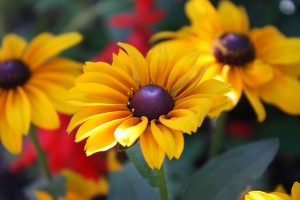 Denis and I went to see "In The Heights" at the Pantages Theater in Hollywood over the weekend. First we had dinner at Musso & Frank Grill, one of the oldest restaurants in Los Angeles (since 1919) – I think we had one of the original waiters!  I'm pretty sure I recognized him from the Last Supper.

But the food was good.  There's really nothing like seeing a live show and this one was really good.  The highlight of the night?  I actually wore a dress.  There's no photo of my in my dress but here's a pretty picture from my garden.  And now a quick game of $10,000 Pyramid:
~ A daisy in bloom.  
~ Jenny in a dress.
        The category:  Things we won't see again until next spring.

12 Comments on "Date Night"