Jun 24, 2011
My Apple Pie Bars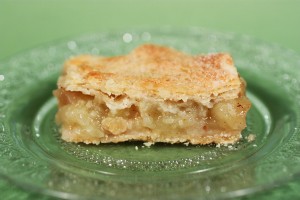 With ninety-one organic apples on my tree, I had to come up with a very special recipe and here it is. It's a lot less work than making traditional apple pie and the best part is… it's healthier… made without shortening or butter, only heart-healthy canola oil. I love that!
It tastes just as good as a pie, in fact, Denis keeps calling it pie but I say a piece of pie is pointed and this is square – it is NOT pie! Whatever you call it, this is one of my best recipes.
And try to eat just one piece of p….. uh…. I mean one bar.

June 25th
I made apple pie bars again. I had to. My apples were calling me from the tree: "We're ready! Over here! Eat us! Bake us into one of those pie bars! We need a purpose! We like being snuggled in that delicious crust. Please Jenny, take us before the squirrels come!!"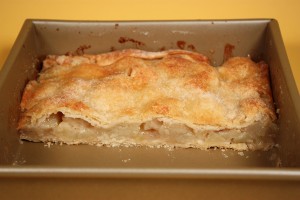 4 Comments on "My Apple Pie Bars"