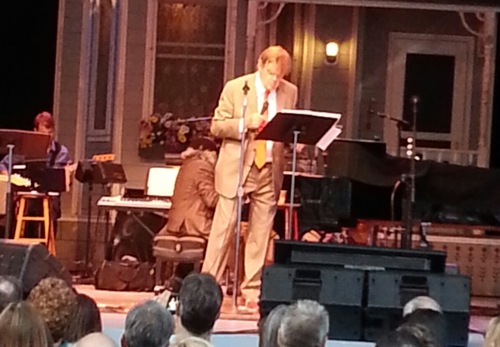 We celebrated my birthday last night at the Greek Theater in Griffith Park to see A Prairie Home Companion with Garrison Keillor. It was a great night sitting outside under the stars watching a little bit of Americana. Where else can you go and watch a radio show? It's so well done with the most amazing sound effects guy, great music, humor, and then… the coyotes.
It was unbelievable! The theater is outside surrounded by wilderness and wildlife and right in the middle of the show, a pack of coyotes started howling right behind us. At first it sounded like part of the show coming through the speakers but it quickly become clear what it was. I'm guessing it was a large pack because they made a lot of noise for quite a while. The show stopped and Garrison asked the audience, "What was that?" We all answered back, "Coyotes!" It's a familiar sound to most locals, that squealing and howling they do – but it was beautiful music to me. It's what I occasionally hear in my own backyard (those are the times I don't go out to see what's going on!)
What a memorable evening this was. A night out at the Greek and coyotes who sang for my birthday.