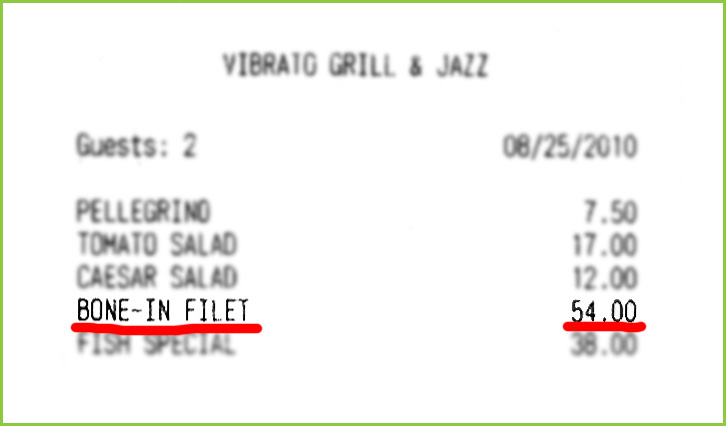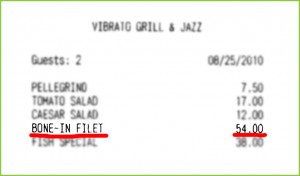 Denis and I went out the other night to an upscale supper club for dinner and to hear some live jazz music.  I knew it wouldn't be cheap but neither am I, so we saw the menu and the entrees were in the 20 and 30 dollar range.  That seemed okay especially with live music.  Our charming waitress went through the specials and highly recommended the bone-in filet. She said if we like steak, we should definitely try it.  I like steak so I said okay, but I said it had to be well done for me.  If it's pink, I wouldn't eat it.  (don't ask me how many chefs take umbrage with my steak orders!)  I digress because the doneness was not the biggest problem.  But it did arrive pink so I asked again for it well done.  She said they may have to take it off the bone to make that happen and I said, "That's okay, I wasn't going to eat the bone."  So it finally came well done and it was okay, but not as lean as a filet should be.  But the music was good and I wasn't going to complain.  Then the bill came.  FIFTY-FOUR DOLLARS! Just for my steak!  I put my glasses on.  Maybe Denis couldn't see in the dark and  it was S4 for "Steak  – cooked Four times as long." No, it was fifty-four dollars! How much was the steak and how much was the bone?  Now I had indigestion, not because of the food but because I felt conned.  In a place like Vibrato Grill & Jazz, you don't ask how much something costs – how tacky is that?  I mean Jennifer Tilly was sitting behind us – this was no "eat it and beat it" joint.  Herb Alpert owns it for God's sake.  If he was still alive, I would write to him.  Oh… I think he is alive.  But he wasn't there. Maybe he can't afford to eat there.
Things I could have done with that $54.00:
~~ Buy four filet mignons at Whole Foods and cook them on the grill.
~~ Fill up my car.
~~ See four movies with popcorn (the big buckets).
~~ Get two coffees at Starbucks.
~~ Buy organic blueberries.
~~ Get a Toblerone Bar from a hotel mini bar.
~~ Buy five skirts at the drug store.
Lesson learned.