Celebrity and philanthropist Jenny Jones loved her sister. And her sister, Liz Rankin, loved My Sisters' Place.
So it was appropriate that when her sister died, Jones decided to donate $50,000 to the London women's shelter. And it was appropriate the donation be announced among dozens of women there Wednesday.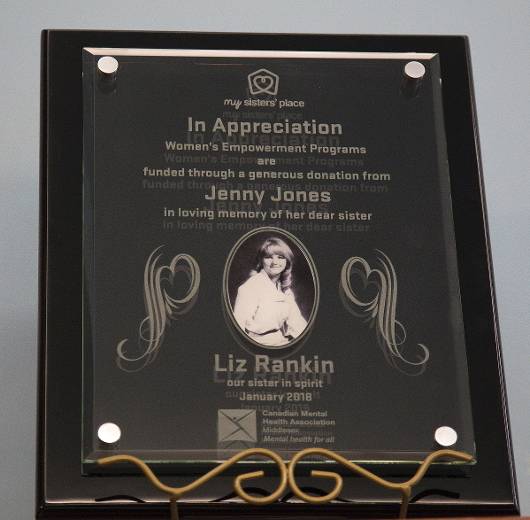 This plaque will hang at My Sister's Place in appreciation of a $50,000 donation from Jenny Jones in memory of her sister, Liz Rankin. (DEREK RUTTAN, The London Free Press)
"It was very close to her, what they do here," said Andrea VanderWeide, who's Rankin's daughter and Jones's niece. "My mom had mentioned to my aunt many times that this was a charity that meant something to her. My aunt is pretty shook up. She wanted to honour my mom's memory."
The Jones family grew up in London, with the matriarch the original Sophie of Sophie's Gown Shoppe, where growing up, Jenny and her sister, Liz, would pose in the windows as models and help with the sewing. Jenny Jones became a household name, hosting her own talk show from 1990 to 2003, and a generous, behind-the- scenes contributor to many causes.
Liz Rankin became a loyal employee at Drewlo Holdings in London, retiring only a few years ago. She died suddenly May 7, 2017, at 73. "My mom was a strong, independent woman," VanderWeide said. "If there is anything that stands out about my mom, in the memory of anyone who ever met her, it would be her desire to help. She knows somewhere that she is still helping."
Not long after Rankin's death, My Sisters' Place received a phone call from someone who said she was Jenny Jones, director Susan Macphail recalled. "I said, is that the Jenny Jones? She called because she had just suffered a heartbreak. Her beloved sister had passed away." Jones spoke about her love of her sister and her support of women helping women, Macphail said. Jones wasn't able to attend Wednesday's announcement.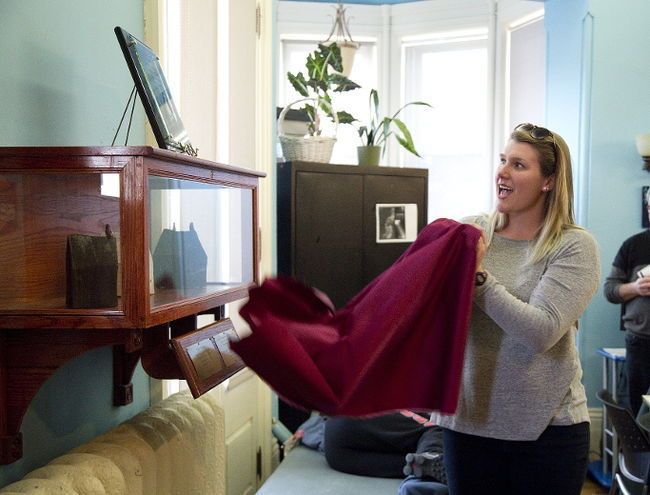 The shelter decided to put the money toward several women's empowerment programs, including a theatre group, financial literacy sessions, peer support and self-compassion groups, which don't have regular funding.
"It's always bittersweet when we receive a gift that is in memory of someone," said Beth Mitchell, chief executive of Canadian Mental Health Association Middlesex, which operates My Sisters' Place. "We know it represents a loss for the family and the community. On the other hand, we hope that this legacy brings some comfort. Certainly, for us it brings us much joy and we know it will be used well."
Two women who use My Sisters' Place spoke Wednesday about the impact of the organization on their lives. "Before I found My Sisters' Place, I was homeless, addicted and suffering from severe mental health issues," Beth said. "With the help of My Sisters' Place, I am housed, happily married, no longer addicted and my mental health is in check."
Just coming each day and seeing women who want to help changes lives, Patricia said. "It gives us a sense of hope, coming in and seeing friends and people just gathered around."