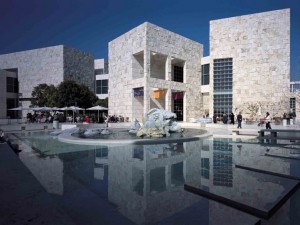 The Getty Museum is fantastic!  Denis has friends in town so we all went for the afternoon. It's on top of a hill so after parking, you take a tram up the hill to the museum.  
It's just stunning.  The buildings (there are a few) are all white and they have the most beautiful formal garden. Of course I took my camera. Even if we had all day we could never have seen all the exhibits but now I know how great it is and can go back.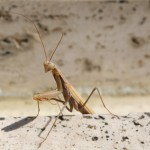 As we were going in, Denis spotted a praying mantis sitting on the stone. It let me get really close and didn't move so I took this picture.  I think I'll put it in my photo section too.
Meantime, while I was away, Damon posted some new videos on the site. There's a brand new Talk Show Video Highlights page with clips from my show, with a new one on Child Stars and also Chubby Checker singing The Twist. I found some boxes of tapes so there are more clips coming soon.  But don't expect more bloopers any time soon.  I have to wait until I make a mistake and as you know, that could take years!  😉