All I want for Christmas is… more sandbags.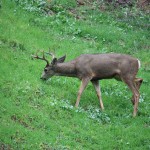 Geez! Give us a break! It finally stopped raining today (for now) and the hill behind our house is still there so we're luckier than some people around here.  We have sandbags along the back patio just in case, and we could use some more along the side for the next rain. That's coming on Sunday. I went out to the back yard to check on the hill behind us and I saw this buck eating my grass. "Get out! Go away!" I kept yelling at him. "Stop eating the grass – you'll expose the mud and cause as landslide!" The grass may be the only thing holding that saturated hill together!  He glanced up & kept eating.
Oh, a reminder if you're making turkey dinner, don't forget my recipe for fresh cranberries. It's posted on the Recipes page.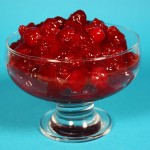 I'll be making a "petite" roast turkey just for two of us with mashed potatoes, stuffing, gravy,  green beans, cranberries, and deep dish pumpkin pie.  
Then cookies. Lots of cookies.
The rain sucks but there is one bright spot. I went to the mall this morning for one last minute thing and found parking! Hand to God.
Remember when I said my hill was fine?
Look at the size of the boulder that just came down!
Good news: It didn't hit the house.
Bad news: It missed the deer. 😉