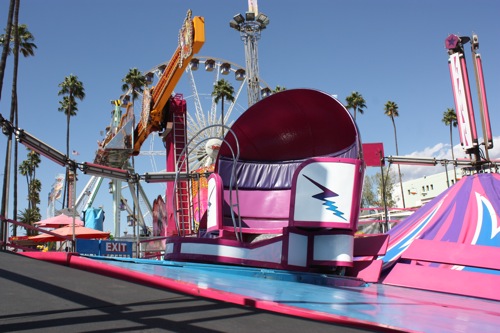 When I heard the county fair was coming to town, I marked it on the calendar. THIS is the day I will ride my Tilt-a-Whirl. I planned it months ago and even got a confirmation that they indeed had a Tilt-a-Whirl from someone who was there. So last Thursday, we headed to the L.A. County Fair.
It was an hour's drive but I didn't care. My Tilt-a-Whirl was there. It was the only reason Denis was willing to drive for an hour and be there on a hot and windy day. As if the amusement ride wouldn't be enough, we arrived and went to get tickets and guess what? Senior Discount!!
Once we were in Denis said, "Do you want to go see the animals first?" "No. Tilt-a-Whirl." "How about the prize winning pies? You love to bake." "No. Tilt-a-Whirl." I had a singular goal and nothing was going to slow me down. I thought I would ride five times, twice right away, go see the animals, two more rides, then the pies, and one more ride before we left.
This Tilt-a-Whirl wasn't the traditional red but it was even prettier, painted in pink and purple. As if this wasn't the best day ever (no traffic + senior discount) there was hardly anybody on the ride! No line at all. Denis bought some ride tickets, and I saw only two cars with other riders so I could pick any of the other cars. Denis got the camera ready while I handed the ride operator (let's call him "Satan") my tickets.
"You can't ride," said Satan. "WHAT? Why not?" "No single riders," Satan replied. "But there's nobody here," I said, "That's for when there's a line. I drove an hour to ride this Tilt-a-Whirl. Most of the cars are empty." "No, you can't ride," said Satan, "No single riders." Denis offered to ride with me but I was wearing a nice shirt and didn't want him throwing up on it. It was a long, sad, ride home. Satan could probably get a job at a restaurant and if Jesus himself walked in he'd say, "Sorry. No shirt, no shoes, no service."