Is it cannibalism to feed hard-boiled eggs to a pheasant? I don't think so.  It wasn't a pheasant egg, it was a chicken egg. We feed beef to dogs. A cow is to a dog as a pheasant is to a chicken, n'est pas? Seriously, they say to feed hard-boiled eggs to pheasants. Here's the page from the pheasant and peafowl website: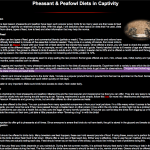 http://www.gbwf.org/pheasants/pheasant_diets.html
I still say Baron's got a bad attitude. Pheasants are starving in China.